TODAY'S TOP CYBER ATHLETES
ARE READY TO ENTER THE ARENA
Join us at #IC3Games 2023
In partnership with the games, IC3 will offer a host of educational opportunities for attendees wishing to enhance their own cybersecurity acuity. You can network with industry leaders and hear some of the world's leading cyber experts deliver information on trending topics and current best practices in cybersecurity. Come alone or bring your team as we bring together industry, education, and application to deliver one of the most exciting incubators of cybersecurity entrepreneurship globally.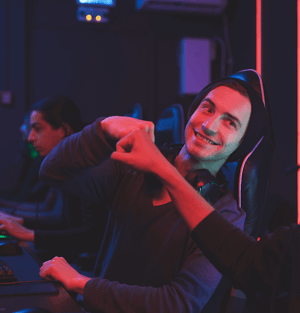 Want to perfect your game? Participate in trending discussions with expert cybersecurity gamers and exercisers as they share experiences and practical advice for cybersecurity games. Benefits and strategies will cover Capture the Flag (CTF), King of the Hill, Escape Rooms, and more. You will gain new knowledge and up your skills when you take advantage of this exciting opportunity, regardless of your passion and area of expertise.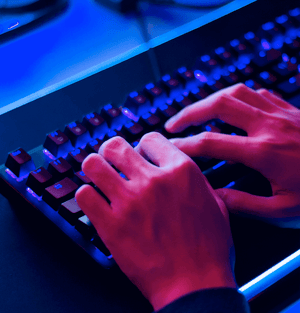 Want to join in on the excitement? A first-of-its-kind, hands-on Game Expo will allow you to test your cybersecurity skills. Whether you are new to the world of cyber games or are a seasoned pro, we have games just for you. Even if you are not quite ready to compete with our international athletes, you will see that cybersecurity can be fun. Join us as we give you an opportunity to get your fingers on the keyboard!
Join the hype—this trending event, featuring the top rising talent in cybersecurity is guaranteed to deliver! All ages will want to watch as teams from 64 global countries gather in this exciting competition-based forum. You will see over 200 cyber athletes, ages 17–25, test their skills in challenges relating to web application and system exploitation, cryptography, reverse engineering, hardware challenges, and attack & defend.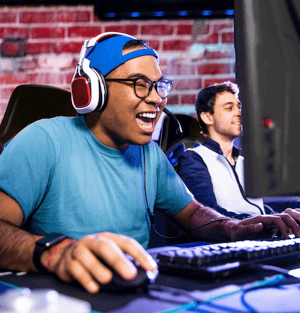 WATCH
International Cyber Games
Grab a front-row seat as the second-ever International Cybersecurity Championships visits the US. You will see skilled cyber athletes battle it out on CTF, Red v. Blue, Hardware Challenges, and more. Guaranteed to keep you on the edge of your seat, you'll see top global cybersecurity youth go head-to-head in this highly competitive forum. So come join the fun—after all, what's a championship without fans?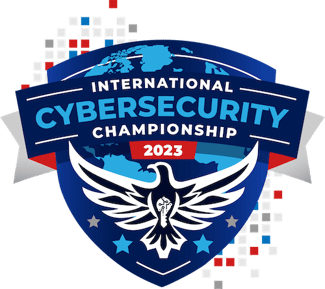 The International Cybersecurity Championship and Conference (IC3) event is designed to attract top talent and raise global awareness of the power of games to upskill the cybersecurity industry.
Through its exciting, competition-based forum, the IC3 helps individuals further their cybersecurity education and skills. IC3 is designed with three primary components. The first is a speaker session showcasing top leaders in Cybersecurity Games and Exercises from around the world. The second is the hands-on expo of cyber games, immersive training, and exercises. Finally, the program includes the 2023 International Cybersecurity Challenge (ICC), a championship tournament featuring global teams (25 years and younger).
The cybersecurity championship tournament is composed primarily of capture-the-flag and attack-and-defend games. It is an annual challenge that moves from country to country each year and is organized by the ENISA International Cybersecurity Challenge Program (ICC). Teams representing global regions travel to this multiday event to compete in challenges related to web application and system exploitation, cryptography, reverse engineering, hardware challenges, and attack/defense.
Enjoy sunny San Diego as you travel to see some of the top rising cybersecurity talent in the world.
San Diego, California
July 31–August 4, 2023.
Frequently Asked Questions
Cybersecurity games are fun for all! Championship competition is limited to ENISA ICC teams; however, the expo will provide games and training opportunities designed for everyone to enhance their cybersecurity skills. Students and professionals alike will have a great time and benefit from this education-oriented forum.
The IC3 is a multiday event consisting of a Conference & Expo. The event will give attendees the opportunity to learn while having fun. The Championship allows you to see how 150 athletes from 63 countries test their skills in cybersecurity challenges.
CONFERENCE
Tuesday, August 1—Thursday, August 3
8:00—11:00 AM
HANDS-ON EXPO
Tuesday, August 1—Thursday, August 3
10:00 AM—3:00 PM
CHAMPIONSHIP
CTF and Hardware Competition—Wednesday, August 2
9:00 AM—5:00 PM
Attack and Defend Competition—Thursday, August 3
9:00 AM—5:00 PM
AWARDS CELEBRATION
Friday, August 4
Join us in recognizing and celebrating our cyberathletes during an exciting Awards Celebration.
(Purchase tickets separately)
Does It Cost to Attend or Play?
Your admission includes entrance and participation in the Conference and Hands-On Game Expo taking place Tuesday, August 1—Thursday, August 3.
You're also invited to watch the Championship taking place Wednesday, August 2 and Thursday, August 3.
General Admission
Early Bird $50* | Regular $60 | On Site $75
Student Admission
Early Bird $25* | Regular $30 | On Site $40
Government Admission
Early Bird $35* | Regular $40 | On Site $50
*Early Bird Deadline is April 16, 2023.
Group rates are available. Contact us at IC3@playcyber.com
Cybersecurity games are exciting for participants and observers alike! Games can be viewed in person, via a livestream, or by watching recorded sessions. Live stream information will be provided closer to the event date.
Absolutely! Those desiring to watch the event in real time, or even after the fun, can watch via YouTube. Streaming information will be provided closer to the event date.
Are Sponsorships Available?
Multiple sponsorship opportunities are available for your organization or business. Multiple tiers are available based on your objectives, and packages can be customized to create the exact type of exposure you desire.
Contact PlayCyber at IC3@playcyber.com to create the type of sponsorship that is best for you.
Can I Play in the Championship?
Conference attendees will be able to test their skills in cybersecurity gaming during the Hands-On Games Expo. Offered on Tuesday, Wednesday, and Thursday as part of the educational and training segment of the conference. You will experience firsthand the excitement of being a cyber gamer and learn how games can up your security expertise. These challenges are open to all, whether you are brand new to the team, or a veteran cybersecurity expert.
Are There Opportunities to Exhibit?
Becoming a conference exhibitor is a great way to profile your company and gain visibility within the cybersecurity community. A dedicated exhibitor area will be available Tuesday, August 1 through Thursday, August 3, offering companies the ability to interact directly with event attendees.
Information on becoming an exhibitor, including pricing and guidelines, will be available soon. Please email IC3@playcyber.com to request information.