venue
Hilton La Jolla Torrey Pines
Nestled along the La Jolla bluffs, the Hilton La Jolla Torrey Pines is the location of the IC3 Championship and Conference.
The hotel offers luxurious facilities overlooking the Torrey Pines Golf Course and the Pacific Ocean and is just minutes from Central San Diego, Encinitas, and Del Mar.
The Hilton La Jolla Torrey Pines is 15 miles from the San Diego International Airport.
Nearby attractions include the Del Mar Racetrack, La Jolla Shores, and Birch Aquarium.
venue
AMENITIES
Guests can indulge in massages and take advantage of an outdoor pool and poolside bar, in-room conveniences include refrigerators and microwaves, and the Torreyana Grille serves breakfast, lunch, and dinner. Rent a bicycle and explore the surrounding area or go for a scenic hike in the adjacent Torrey Pines State Reserve.

Internet access

Room service

Digital Key

Outdoor pool

Fitness center

Restaurant
venue
Torrey Pines Golf Course
The two world-renowned championship courses of Torrey Pines sit atop the La Jolla cliffs and overlook the Pacific Ocean. The challenging South Course is host of the June 2021 U.S. Open Championship, and both courses are played in the annual PGA Tour's Farmers Insurance Open. Resort guests can book exclusive tee times.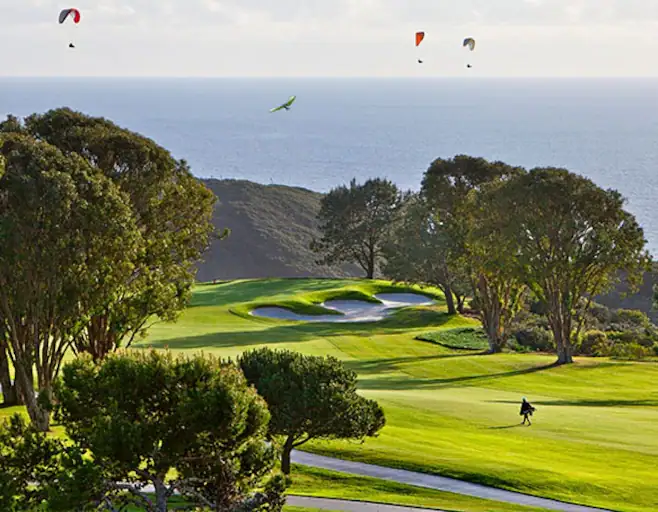 TRANSPORTATION
San Diego International Airport
Address: 3225 N Harbor Drive, San Diego, CA 92101 (just 15 miles away from the Hilton La Jolla Torrey Pines)
Website: www.san.org
NOTE: The hotel does not provide a shuttle service to and from the airport. Self-parking is available for $40/day onsite or $45 valet parking at the Hilton La Jolla Torrey Pines.
If you require a taxi from the airport to the hotel, simply follow the signs leading to the Transportation Plazas. A customer service representative will place you with the first available taxi unless you specify a particular taxicab company.
All car rental pick-ups and drop-offs for rental car companies serving San Diego International Airport occur at the Consolidated Rental Car Center. Free dedicated shuttle buses run continually to ferry customers between the airport terminals and

Frequently Asked Questions
Cybersecurity games are fun for all! Championship competition is limited to ENISA ICC teams; however, the expo will provide games and training opportunities designed for everyone to enhance their cybersecurity skills. Students and professionals alike will have a great time and benefit from this education-oriented forum.
The IC3 is a multiday event consisting of a Conference & Expo. The event will give attendees the opportunity to learn while having fun. The Championship allows you to see how 150 athletes from 63 countries test their skills in cybersecurity challenges.
CONFERENCE
Tuesday, August 1—Thursday, August 3
8:00—11:00 AM
HANDS-ON EXPO
Tuesday, August 1—Thursday, August 3
10:00 AM—3:00 PM
CHAMPIONSHIP
CTF and Hardware Competition—Wednesday, August 2
9:00 AM—5:00 PM
Attack and Defend Competition—Thursday, August 3
9:00 AM—5:00 PM
AWARDS CELEBRATION
Friday, August 4
Join us in recognizing and celebrating our cyberathletes during an exciting Awards Celebration.
(Purchase tickets separately)
Does It Cost to Attend or Play?
Your admission includes entrance and participation in the Conference and Hands-On Game Expo taking place Tuesday, August 1—Thursday, August 3.
You're also invited to watch the Championship taking place Wednesday, August 2 and Thursday, August 3.
General Admission
Early Bird $50* | Regular $60 | On Site $75
Student Admission
Early Bird $25* | Regular $30 | On Site $40
Government Admission
Early Bird $35* | Regular $40 | On Site $50
*Early Bird Deadline is April 16, 2023.
Group rates are available. Contact us at IC3@playcyber.com
Cybersecurity games are exciting for participants and observers alike! Games can be viewed in person, via a livestream, or by watching recorded sessions. Live stream information will be provided closer to the event date.
Absolutely! Those desiring to watch the event in real time, or even after the fun, can watch via YouTube. Streaming information will be provided closer to the event date.
Are Sponsorships Available?
Multiple sponsorship opportunities are available for your organization or business. Multiple tiers are available based on your objectives, and packages can be customized to create the exact type of exposure you desire.
Contact PlayCyber at IC3@playcyber.com to create the type of sponsorship that is best for you.
Can I Play in the Championship?
Conference attendees will be able to test their skills in cybersecurity gaming during the Hands-On Games Expo. Offered on Tuesday, Wednesday, and Thursday as part of the educational and training segment of the conference. You will experience firsthand the excitement of being a cyber gamer and learn how games can up your security expertise. These challenges are open to all, whether you are brand new to the team, or a veteran cybersecurity expert.
Are There Opportunities to Exhibit?
Becoming a conference exhibitor is a great way to profile your company and gain visibility within the cybersecurity community. A dedicated exhibitor area will be available Tuesday, August 1 through Thursday, August 3, offering companies the ability to interact directly with event attendees.
Information on becoming an exhibitor, including pricing and guidelines, will be available soon. Please email IC3@playcyber.com to request information.